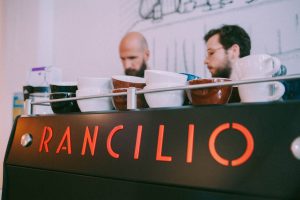 Everything is ready for the new leg of Barista League, the funniest event in coffee's world. To celebrate the last date and celebrate the success of the season, the Barista League community will gather in Manchester.
The core of the event will be the competition, which will feature 12 pairs of baristas who will challenge each other with cups of coffee, creativity, and technical skills in 3 rounds. Rancilio Group is a technical partner of the event also for the English date. In fact, alongside the baristas there will be RS1, the innovative coffee machine by Rancilio Specialty designed to extract and enhance the best coffees and the finest blends.
The appointment for the final stage of this season of Barista League is for Saturday, November 6 at Heart and Graft Coffee, a roasting company in Manchester. And if you can't reach Manchester, follow the event on the social channels of Barista League and Rancilio Specialty.
Barista League
Saturday, November 6,
Heart & Graft Coffee Ltd,
30 Droylsdem Rd, Holyoak St,
Manchester