Rancilio Group is looking forward to seeing you in Milan for the new edition of Host, scheduled from 22 to 26 October 2021. It will be an opportunity to learn about all the latest innovations not only in products but also in technologies and services. For the Group, the Host event will be an opportunity to reveal Egro's new look, with a new logo and a new corporate image. The Egro revamp will also be joined by two new fully automatic coffee machines. As far as the Rancilio brand is concerned, the new editions of two iconic products of the professional line will be unveiled – a new home coffee machine dedicated to the most demanding home baristas and the new coffee grinders. Moving over to the world of specialty coffee, the iconic RS1 will be displayed in a range of coloured versions and will make its debut in an upgraded version with important new features for controlling coffee extraction.
In addition to the new products, the Rancilio Group will also be presenting two new services, launched in recent months, to the Host audience. These are the Digital Training Center, which offers online training courses for specialist technicians, and the new Connect telemetry system, the IoT solution that gathers and analyses relevant data generated by coffee machines.
The Rancilio Group primarily uses technology to develop products that are reliable, durable, almost completely recyclable, with low energy consumption and made from innovative environment-friendly materials.
Host 2021 will thus be the perfect opportunity to showcase the revolution that has marked the company's journey over the last two years. This year the presentation of new products is not the only aspect that will spark the interest of trade visitors. It will also be an opportunity to find out which direction companies in the sector have decided to take in order to adapt to the new world scenario. Consumers' habits are not the same as they were two years ago and customers' needs and priorities have also changed. This is why Host 2021 will serve as a great preview of our future, which we hope will mark the beginning of our new normal.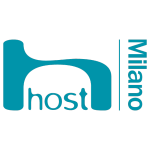 Rancilio Group
Host Milano | 22-26 October 2021
Stand P52 P60 R51 R61
Hall 24
Fieramilano
Via del Sempione (SS33), 28
20017 Rho (MI)