January 23 marks the third day of Campionati Italiani Barista at SIGEP Rimini and the conclusion of the Coffee in Good Spirits competition, while the Latte Art finalists are ready to challenge each other on Tuesday January 24 in the Coffee Arena.
The protagonists of this final shone together with Rancilio Specialty RS1, official sponsor of the competition, excelling in their espresso extraction technique.
Marco Poidomani established himself as Italian champion of the Coffee in Good Spirits category, facing the final against 2022 champion Andrea Villa and Vito Alberto Patrimia, respectively second and third classified. The final, engaging as always, saw the three finalists demonstrate their technique, preparation and creativity.
The two Irish Coffees and two coffee-based cocktails prepared by Marco Poidomani led the judges on a Christmas-themed journey. In addition to a superb technique, Marco Poidomani showed great inventiveness surprising both examiners and the public with cocktails served in brilliant Christmas packages and special effects: "Time flies" he concludes by hovering a cloud of soap above the spectators.
The show in every element guaranteed Marco Poidomani the favor of the jury headed by Luca Ventriglia and the possibility of representing Italy at the next World Cup in Taipei.
"I'm very excited. I thank my family, all those who love me. My son, my daughter and my wife." He declares during his award speech. "I would like a hug from Andrea Lattuada" he then adds gratefully towards the coach who followed him in his training.
The Rancilio Group's Sales Director for Italy, Luca Creti, awarded Marco Poidomani with the brand new Stile on-demand grinder, compact and designed for the home, and the winner's plaque.
The Latte Art semifinal in turn saw a succession of talents who passed the qualifying rounds cappuccino after cappuccino with Rancilio Specialty RS1, the official sponsor of the competition. The Free Pouring challenges offered inspired shapes and top-notch techniques. The following qualified for the final of the Italian Latte Art Championship: Fabio Colicchia, Alessandro Piscedda, Stefano Nodari and Fabian Astenwald.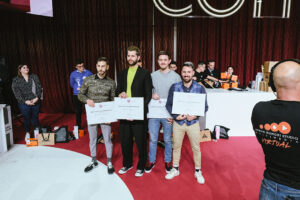 However, the performance of all the participants left no doubts about the high level of this competition and even those who did not succeed to access the finals showed great skill and technique.
Rancilio Specialty / SIGEP Rimini
From 21 to 25 January 2023
From 9:30am to 6pm
Rimini Expo Centre
Coffee Arena
Via Emilia, 155
47921 – Rimini (RN), Italy
Follow the final of the Italian Latte Art Championship on the official Rancilio Specialty Instagram profile
@ranciliospecialty #ranciliospecialty