An exciting, breath-taking conclusion for the Italian Barista Championships at SIGEP 2023
Stefano Nodari emerged victorious from the final round of the Italian Latte Art Championship followed by his opponents Alessandro Piscedda and Fabio Colicchia, respectively second and third place, who in turn demonstrated their great talent and passion. Thus ends the competition organized in collaboration with SCA Italy and Rancilio Specialty, the official sponsor of the event, after three days of close competitions which saw the participants express their creativity one cappuccino after another.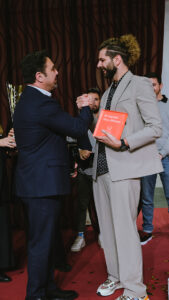 In the SIGEP Coffee Arena Stefano Nodari fascinated the judges with three stunning figures. In the Free Pouring test he impressed the judges led by Chiara Bergonzi with an owl that represents wisdom and intuition and his own dog, Maggie, a symbol of love and loyalty. He then concluded his Designer Latte performance with an elephant expressing care and family love.
Rancilio Specialty RS1 was the professional coffee machine which, in a cheerful lilac designed for the occasion, assisted Stefano Nodari during the final. Thanks to the extraction technology and the steam wand specially designed for Latte Art experts, RS1 guarantees repeatable and high quality results in the cup.
"What prompted me to participate is actually a bet I made a few years ago: after participating at SIGEP 2019 I promised that I would compete on this stage and I did" confesses excitedly the promising student of the world champions Manuela Fensore and Carmen Clemente.
The awards ceremony was opened by thanks from all the sponsors who contributed to the realization of the race. Among these, Rancilio Group, represented by the Italian Sales Director Luca Creti, delivered the victory plate to Stefano Nodari together with the new Rancilio Home Stile on-demand grinder.
"Thanks to the entire SCA team and to all those who contributed to the success of this event. I was pleased to see many new faces in this edition of the Italian Latte Art Championships, which means that there is continuity but also innovation and this, in addition to making us very glad, encourage us more and more to improve and refine our product" declared Luca Creti during the ceremony, concluding: "We will always be happy to participate and support this type of event that rewards talent and quality".
Stefano Nodari thus brings home the title of Italian Champion which, in addition to the national success, gives him a direct pass for the World Championships next November in Taipei.
Rancilio Specialty / SIGEP Rimini
From 21 to 25 January 2023
From 9:30am to 6pm
Rimini Expo Centre
Coffee Arena
Via Emilia, 155
47921 – Rimini (RN), Italy
Follow the event on the Rancilio Specialty Instagram page
@ranciliospecialty #ranciliospecialty